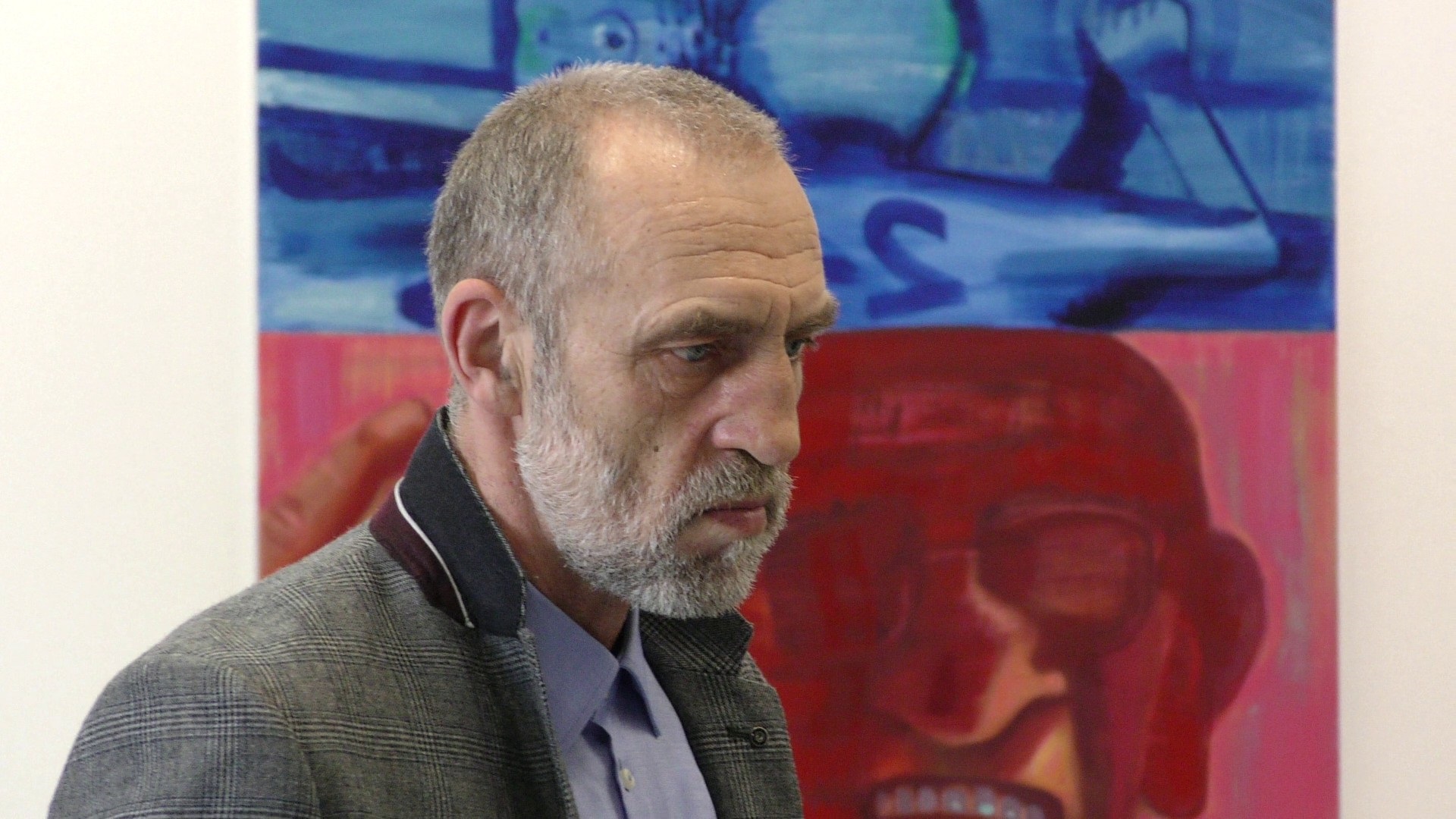 Raimondas Gailiūnas
Photo by Juozas Matonis
The painter Raimondas Gailiūnas (born 1956) lives and creates in Rokiškis, where he is also a member of the neo-expressionist group Angis. Strung on a single narrative thread, Gailiūnas's canvases feature multi-figural stories that employ bright colours to howl out the essential stages of man's life and the matters of his cultural and social environment. The artist reflects the everyday life of the world by observing and commenting on it without embellishing and without moralising: even a wicked soul has the nature of the Buddha.
The avalanche of colour that descends from Gailiunas's works draws from the maelstrom of life. Many people are bewildered, startled, or even stunned upon seeing this artist's paintings for the first time. Raimondas Gailiunas' works have the power of staying in the viewer's head. Whether you like it or not.
Raimondas Gailiūnas: "I have been painting all my life, but from the year of 1985 it became a more consistent and steady occupation. That was a real beginning, I should admit.
I was following Edvard Munch at the beginning of my journey. His expression was pretty contiguous to me. At the same time, I was researching German Expressionists. Surrealism was interesting to me because of its ideology of subconscious impulses, the psychic automatism. I was reading works by Sigmund Freud and C. G. Jung, and listening to rock music to free my emotions. I was investigating the world around me (I still do that nowadays), searching and trying to understand my relation to it.
I consider sincerity as the essential value in art. It always was, and it still remains, the most important thing to me. In my paintings I used to tell stories in which I myself was an active participant. Later, my works became more generalized, but the main concept of "what is a painting?" hasn't changed. These alternations had reflected a formal mastery rather than a concept. So, as I said, works became more generalized, more abstract and… more decorative. This decorative side of my works didn't satisfy me, so I started to search for other ways of expression.
My perception of the world was transforming, and all that was happening around me determined my creative positions. The world reflects in my mind. As an artist, I create my own versions of events without trying to tell the only truth. I comment. By using all the experience of my creative path, I leave my comments about the world. I use my intuition, I look for the signs to prove it in the photographs and in the text comments of the press.
I am not a young painter anymore and I don't expect to have radical changes in my creative work, but I seek to refine my approach as much as possible.
I have never ever tried to compare or to measure my oeuvre with one or another movement in art. I am convinced that creative stylistics should arise out of the inner recourses of the artist. That is why you can easily notice at least a few different styles or elements in my art – Expressionism, Surrealism, New Wild (Neue Wilde)."